Participants needed! Paid study on motivational exercise through virtual reality game design.
Researchers from SFU's Pain Studies Lab are looking for people with and without arthritis to play their virtual reality (VR) game.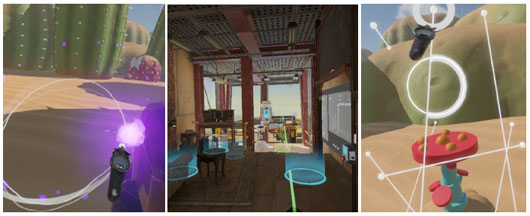 Qualified? If you can stand up for longer than 10 minutes, are encouraged by your physician to do physical exercises, and are over 19 years-old, you're invited.
We welcome ALL age groups and no prior experience playing video games is necessary!
In this VR game, you use your body to control the interactions in the 3D space. Our goal is to understand how VR can be used as a tool for enhancing physical activity.
The study will be at Room 2765, SFU Surrey Campus. It will last for 40-50 minutes.
You will be paid $25 CAD cash for your time.
Interested? Please contact SFU's Pain Studies Lab at fmachuca@sfu.ca or call/text 778-999-6005 to book a study time slot now!
About the study
The study is titled Motivating physical exercise through Virtual Reality game design for people with and without arthritis and conducted by a team at the Simon Fraser University's School of Interactive Arts and Technology.
Research literature shows that virtual reality (VR) can be an effective tool for exercise, from helping elderly with balance, increasing balance confidence and decrease the risk of falls among community dwelling women, stimulating memory, improving motor coordination and exercise cognition, to motivating physical activity in both kids and adults. It has also been shown that VR can be effective to reduce chronic and acute pain. When done right, VR can be a powerful tool for health.
According to a study titled Effects of Strengthening and Aerobic Exercises on Pain Severity and Function in Patients with Knee Rheumatoid Arthritis, aerobic and strengthening exercises are recommended for arthritis patients, and in appropriate amount, can have positive effects on quality of life. However, there is little research pertaining to arthritis patients and aging adults exercising using VR setups with Head-Mounted Display and motion controllers.
Study Methodology
This is a mixed-method study design with both a quantitative measurement survey and a qualitative semi-structured one-on-one interview that will be audiotaped after getting consent from the participant.
Quantitative data regarding the duration of exercises, precision and heart rate will be captured by the system in real-time while the participant plays. After game play, the participant will fill out a questionnaire. Lastly, researchers will assess participants' interest in and willingness to play the game through a one-on-one interview.
The virtual reality game is designed and developed by researchers from Pain Studies Lab. Participants will be using a Head-Mounted Display and holding the motion controllers with their hands. There are two different exercise components in the virtual environment. All user interactions in the game are designed thinking about full range of motion, while at the same time keeping these actions as safe and controlled as possible.
Participants will be given the principal researcher's email address so they can contact the researcher for any inquiries or questions about the study results or other potential issues.