Innovation in Action: Annual arthritis conference brings experts from around the globe to share research, improve patient care
The American College of Rheumatology (ACR) and the Association of Rheumatology Health Professionals (ARHP) meet once a year, bringing researchers from around the world together so they may share information and discuss the latest science, research, and treatments in the field of rheumatology. Innovative sessions, groundbreaking science, education that fills knowledge and practice gaps, and hands-on skills training make up some of the activities of the event.
The goals of the annual conference include:
Identifying developments in disease diagnosis and treatments.
Describing potential issues in delivery of care and sharing ideas for solutions.
Summarizing recent research findings.
Using new research data to improve the quality of patient care.
Encouraging research that leads to new treatment protocols.
Arthritis Consumer Experts was at the most recent event, held in October 2013, to represent people living with arthritis and to learn about the latest research findings so we could share them with you. Of particular interest to consumers were two presentations: One was about the current state of osteoarthritis treatment and ways to improve outcomes in the future. The other discussed recent advances in psoriatic arthritis research and how they could be used to effectively identify, diagnose, and treat the disease to improve patients' quality of life and function.
---
Osteoarthritis: Current and Future Treatment
In her presentation, Dr. Joanne M. Jordan of the Thurston Arthritis Research Center at the University of North Carolina, explained current treatment and management approaches to osteoarthritis (OA) and explored the direction for the future of OA treatment.
Osteoarthritis is the single most common form of arthritis. And the numbers are rising due to an aging population, inactivity, and rampant obesity—according to the Centers for Disease Control and Prevention (CDC), 35.7% of U.S. adults are obese.
Often people have more than one disease or co-occurring condition. For example, between 15 and 46 percent of people living with OA also have diabetes. Eighty-eight percent of people with OA have another chronic condition.
Osteoarthritis is more complex than traditionally thought, and current treatment approaches reflect a dated understanding of the disease. For instance, OA is not just caused by "wear and tear"; metabolic and genetic factors also play a role. Also, OA is too easily dismissed as an unavoidable side effect of aging. In fact, certain lifestyle changes can slow the progression of OA, or prevent it altogether.
Dr. Jordan pointed out some of the flaws in the current treatment model. Namely, no treatment occurs until the onset of symptoms. Furthermore, when treatment starts, it is inconsistent, unstructured, poorly integrated into daily life, and lacks a focus on long-term outcomes.
A new treatment model would be preventive, ongoing, and consider individuals' other health issues. Also, improved diagnostic tools and updated guidelines would help diagnose OA earlier. Non-medication interventions, such as education, exercise, joint protection, social support, and weight control would become the treatment norm.
Finally, Dr. Jordan stressed the importance of finding disease modifying osteoarthritis drugs (DMOADs) to aid treatment. Possibilities for DMOADs would include the following:
Repair cartilage.
Regain the balance between cartilage breakdown and buildup.
Remodel bone.
A new treatment model would be preventive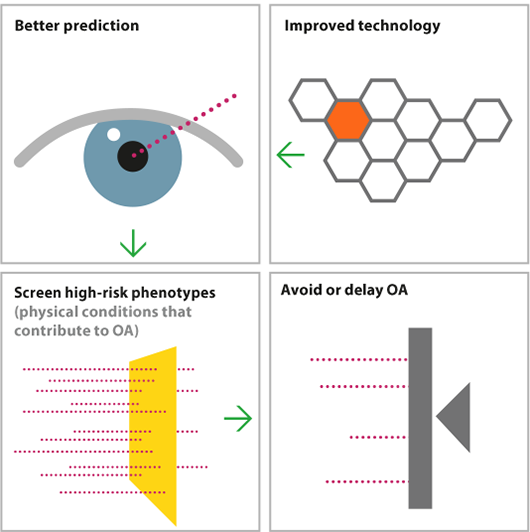 ---
Psoriatic Arthritis: Is There a New Treatment Paradigm?
At the start of his presentation, epidemiologist and Professor of Medicine at the University of Rochester, Dr. Chris Ritchlin, asked this essential question: "How can we implement recent advances to effectively identify, diagnose, and treat psoriatic arthritis in order to dramatically improve patient quality of life and function?"
He went on to provide the newest knowledge gained about psoriatic arthritis (PsA) related to:
Skin and joint features that are characteristic of the disease.
Comorbidities to look for.
Creating an effective, thorough and practical treatment plan upon diagnosis of PsA.
New medications in the pipeline for treating PsA.
Of note was the link between metabolic syndromes (e.g. obesity, insulin resistance) and psoriatic arthritis. For example, obesity is not only a risk factor for PsA, but obese patients are less likely than someone of a healthy weight to achieve minimal disease activity (MDA) criteria while taking a tumor necrosis factor (TNF) inhibitor medication. Weight loss significantly improved the response to medication—after 6 months of taking an anti-TNF, a greater than 10% weight loss was associated with a better chance of achieving MDA.
Future psoriatic arthritis treatment will be tailored to the clinical features of the disease and associated conditions in an individual patient, as well as to imaging (X-ray, MRI) and biomarker results. Also, it will include determining whether a psoriasis patient is at risk for developing arthritis and to identifying early PsA.
One of the highlights of the presentation was the discussion of studies looking at three potential medications to treat PsA, all of which had early positive results. The medications were certolizumab pegol (Cimzia®), apremilast (Otezla®), and ustekinumab (Stelara®).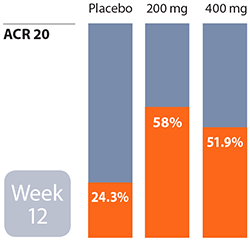 Certolizumab pegol:
Responses to this treatment were observed as early as the first week. At week 12, 58% of participants achieved ACR 20 at the 200 mg dose and 51.9% at the 400 mg dose. The Health Assessment Questionnaire Disability Index (HAQDI) score also improved. The HAQDI evaluates changes in the physical function of people living with psoriatic arthritis.
---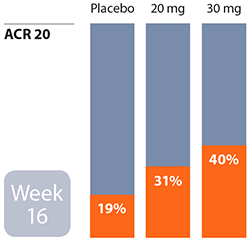 Apremilast:
At week 16, 31% of patients achieved ACR 20 (20% improvement in tender and swollen joints according to the American College of Rheumatology criteria) with a 20 mg dose. With a 30 mg dose, 40% of participants reached an ACR 20 in the same time. The major adverse events were diarrhea and nausea, which resolved over time.
---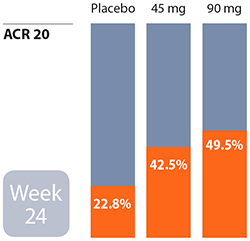 Ustekinumab:
At week 24, improvements in dactylitis (inflammation of fingers), enthesitis (inflammation of tendons or ligaments where they insert into bone), and the HAQ Disability Index were seen. Overall, it was found to be effective for skin and musculoskeletal inflammation that occurs with PsA. Out of 409 patients receiving the medication, there were two who developed erythroderma (skin inflammation) and one who experienced cardiovascular arrest.