Thanks to our fans and followers, Arthritis Broadcast Network's 2018 #CRArthritis Facebook and Twitter Live event reached over 94,205 people to date! 
We did it! The Arthritis Broadcast Network (ABN) #CRArthritis Facebook and Twitter Live event at the Canadian Rheumatology Association (CRA) Annual Scientific Meeting and Arthritis Health Professions Association (AHPA) Annual Meeting conducted a total of 39 interviews (7 more than last year) in a little over 48 hours. Thank you to all of our interviewers, interviewees, and online audience who participated in the event. Because of you, the #CRArthritis event have informed and educated over 94,205 people to date. We'd say that's an unqualified success, and you were a central part of making it happen – thank you!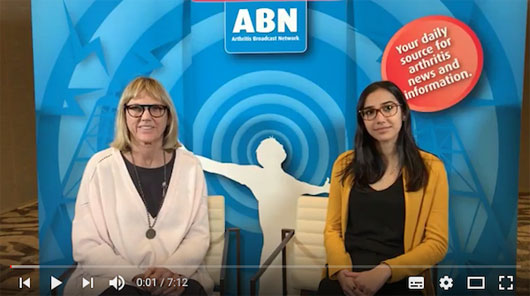 Interview topics included psoriatic arthritis, juvenile arthritis, ankylosing spondylitis, rheumatoid arthritis, giant cell arteritis, lupus, research, patient engagement in research and health care, evolution of rheumatology care, medication adherence, personalized and precision medicine, models of care, exercise, self-care, nutrition, education and pregnancy, among other important topics.
A reminder that the interviews remain on the ABN Facebook Page and are available on the ABN YouTube channel under "#CRArthritis Facebook and Twitter Live 2018". Please continue to share, like, and comment on the interviews to continue the conversation online.
On behalf of Arthritis Consumer Experts and its #CRArthritis collaborators, the Canadian Spondylitis Association, and the Arthritis Patient Advisory Board of Arthritis Research Canada, thank you again for your participation in this year's event.
The #CRArthritis broadcast booth will see you again next year!