Mental Health and arthritis: a complex relationship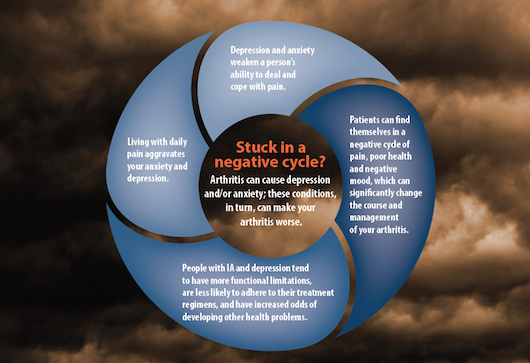 In the latest issue of JointHealth™ insight, Arthritis Consumer Experts (ACE) reports on the important relationship between mental health and arthritis. People with inflammatory arthritis are more likely to experience mental health conditions such as depression, anxiety, and "brain fog" than the general population.
This issue of JointHealth™ insight will cover the following:
Relationships between depression, "brain fog" and inflammatory arthritis
Burden of depression
Recognizing and managing depression and anxiety
Prevent depression and anxiety
Love, sex, and arthritis*
*Please be advised that the content in this section contain graphics of "joint friendly" positions during sex and may not be appropriate for you or others in your household. The graphics are excerpted from the book, "Rheumatoid Arthritis: Plan to Win", by Cheryl Koehn, Dr. John Esdaile and Taysha Palmer published by Oxford University Press, 2002.
Depression and anxiety, "brain fog",
and inflammatory arthritis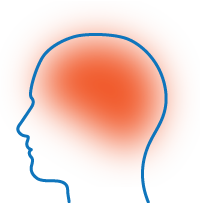 People living with inflammatory arthritis (IA), such as rheumatoid arthritis (RA), spondyloarthritis, psoriatic arthritis and lupus experience physical and emotional challenges. Research shows that people with IA are more likely to experience depression and/or anxiety than the general population; people with RA are 17-20% more likely to develop depression.
One theory is that mental health disorders are an outcome of the pain and disability associated with arthritis. For example, new limitations caused by IA can bring significant changes to one's life, work and relationships, leading to anxiety and depression.
We know that pain and disability are linked to depression in arthritis, but there is now growing evidence that inflammation also plays a role. For example, researchers at the University of Glasgow found that chronic inflammation from IA, which affects joints and organs, such as the eyes, skin, and the brain, may also be related to mental health disorders like depression1.
"Brain fog" is another symptom of IA. "Brain fog" can create episodes of confusion, disorientation and frustration. Patients are unable to think clearly, concentrate and have problems with memory. Results from a 2018 study published in Nature Communications linked RA inflammation with how messages about your inflammation are transmitted between your brain and your central nervous system2. Researchers believe these brain changes are the reason behind fatigue, pain, and an impaired ability to think.