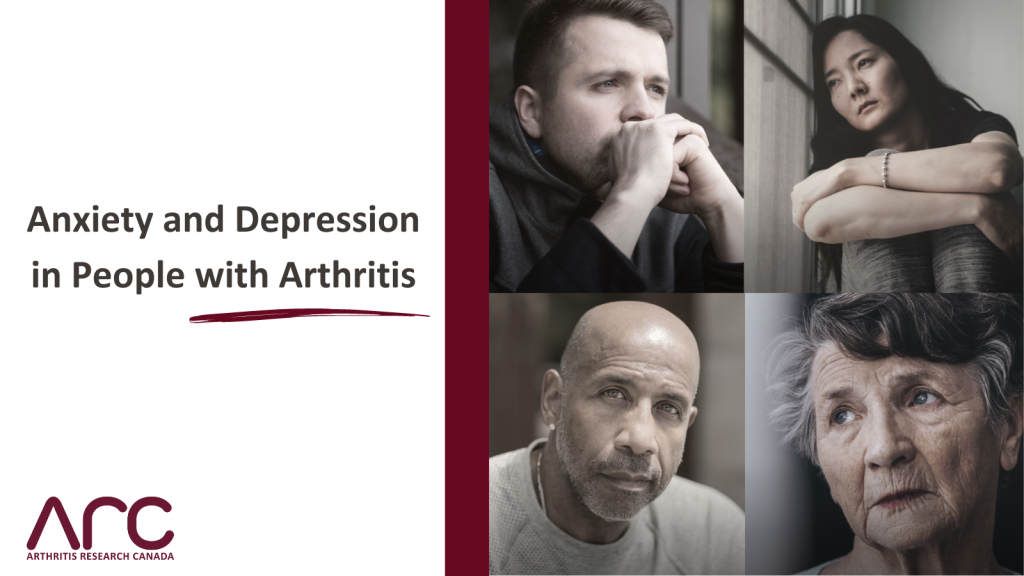 Over 6 million Canadians, young and old, struggle with the pain and disability of arthritis. People with arthritis are more likely to have symptoms of anxiety and depression than people without arthritis. It is important for people with arthritis to take care of both their physical and their mental health.
In rheumatoid arthritis, research has shown that up to 38% of patients experience depression and up to 70% experience anxiety. In lupus, up to 30% of patients experience depression and up to 40% experience anxiety. Research has shown high proportions of patients with psoriatic arthritis, ankylosing spondylitis, and gout experiencing anxiety and depression as well.
Arthritis Research Canada is conducting research to better understand the prevalence of anxiety and depression in people with arthritis, why this is occurring, and what we can do to address it. This research seeks to improve the level of care provided to people with arthritis by helping inform healthcare decision making and by providing patients with the tools and resources to assist with their own self-care efforts.
Living with chronic pain can affect a person's mood as it is physically and emotionally stressful. Stress, anxiety, and depression can worsen arthritis symptoms and pain, and likewise, the other way around. Untreated mental health related issues may lead to further complications and long-term negative effects.
There is evidence that a complex underlying relationship exists between arthritis and psychiatric complications that is largely driven by inflammation. The pain, disability, and disease activity in arthritis are associated with the onset of anxiety and depression. At the same time, having anxiety and depression also negatively impacts disease activity in arthritis, along with treatment adherence and quality of life.
Taking care of yourself and maintaining good mental health can help you prepare for life's challenging moments. It is important that people with arthritis identify and recognize early warning signs and get help.
To learn more about Arthritis Research Canada's studies on Anxiety & Depression in People with Arthritis, click here.