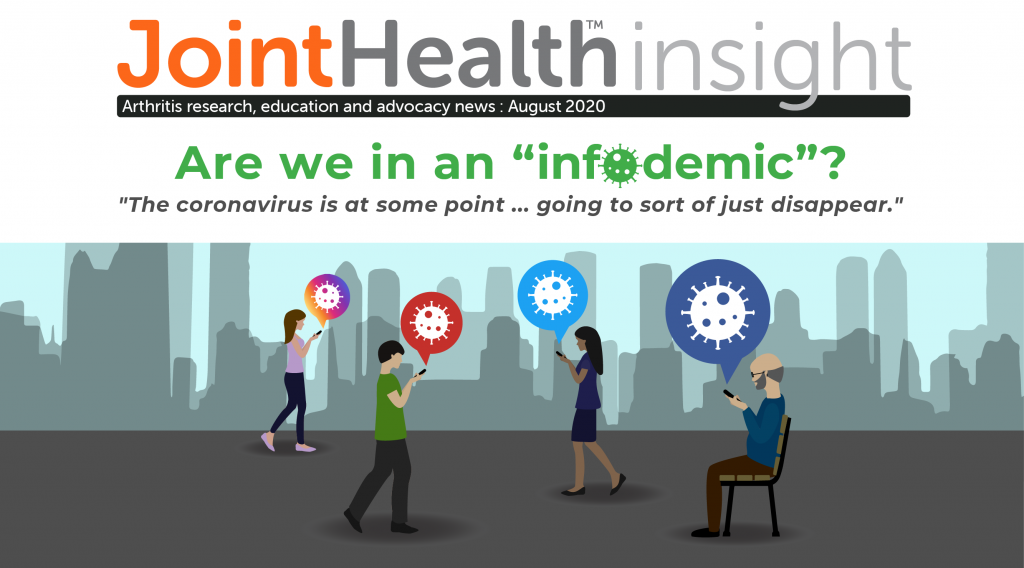 The International Fact-checking Network has called COVID-19 "the biggest challenge fact-checkers have ever faced". In July 2002, the World Health Organization hosted the first "infodemiology" conference to study the infodemic of misinformation and disinformation around the coronavirus. In this issue of JointHealth™ insight, Arthritis Consumer Experts (ACE) covers what you need to know about the 'infodemic', how we got here and what it means for arthritis patients and researchers.
This JointHealth™ insight will cover the following topics:
What is an infodemic and how did we get here
Respecting and promoting science: what it means for the Canadian arthritis community
Why arthritis research is important for us
Arthritis Consumer Experts' response to the infodemic: Lifestyle tips from Arthritis At Home experts
How did we get here?
What we have learned over the past five months is that the traditional media and, even more importantly, high-powered social media have accelerated the spread of lies and the political polarization that motivates people to believe misinformation. Experts are concerned that unless the public health sphere can effectively counter misinformation, not even an effective vaccine may be enough to end the pandemic.
While fake news is anything but new, the difference is the infodemic can make people sick and even kill them if they don't understand what precautions to take.
Beyond its effect on individuals, the infodemic erodes trust in science and government leadership at the moment when that trust is most needed. A study by the Reuters Institute found 39% of English-language misinformation assessed between January and March included false claims about the actions or policies of authorities.
The infodemic has spread nearly as widely as the pandemic itself in North America. Based on an online survey by Ryerson University researchers, misinformation about the COVID-19 pandemic is reaching a majority of Canadians who use social media and popular apps. Nearly 7 in 10 Canadians who responded to the survey said they had personally encountered misinformation about the global health crisis on social media platforms or on popular aggregator websites like Reddit.
In the US, 38% of Americans surveyed by Pew in June said that compared to the first couple of weeks of the pandemic, they found it harder to identify what was true and what was false about the virus.