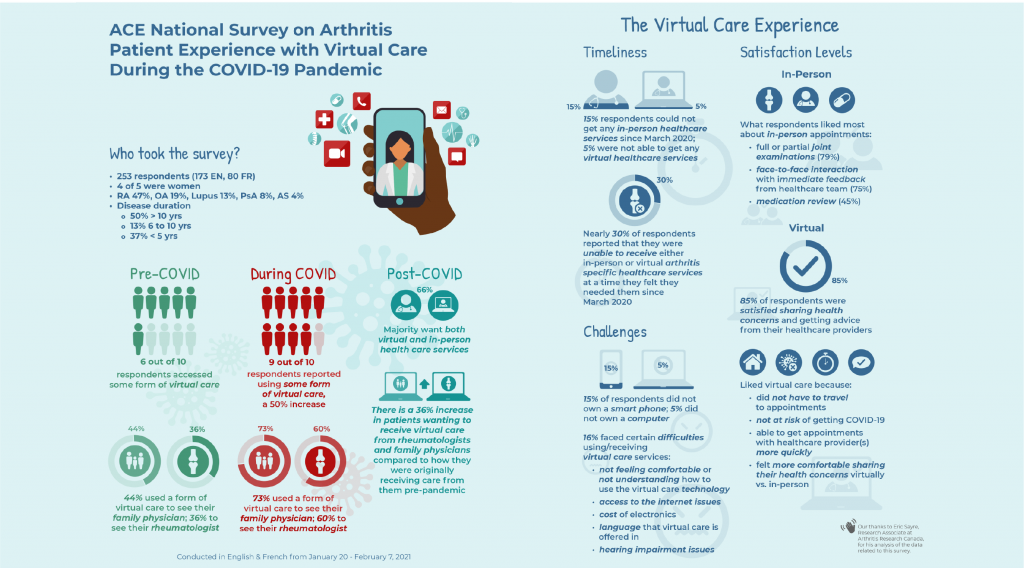 Arthritis Consumer Experts (ACE) conducted a national survey in English and French from January to February 2021 to understand arthritis patient community's experiences and satisfaction using virtual care and if they would like to see virtual care options expanded in the future.
This JointHealth™ insight provides a general summary of respondents' answers to the survey, including:
Who completed the survey
Virtual care use before and during the COVID-19 pandemic
Arthritis patient access and barriers to virtual care services
Timeliness of in-person and virtual care
Arthritis patient level of satisfaction with virtual care services
Arthritis patient preferences for the future of healthcare delivery
We encourage you to share our survey findings and infographic with your community to ensure the continued use of appropriate virtual care services for patients.
Background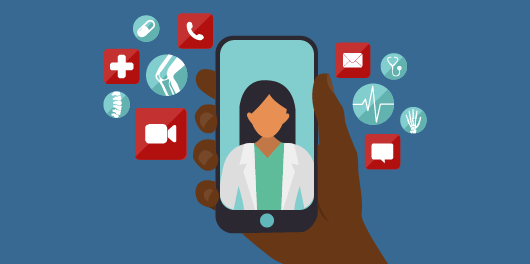 Virtual care has the potential to address what is expected to be a huge increase in the demand for home- and facility-based continuing care as the population ages, particularly those living with complicated chronic diseases like inflammatory arthritis (IA).
For the diagnosis and treatment of complex types of arthritis, it's important that people see a rheumatologist – a specialist specifically trained to treat these diseases. However, many people with IA live in locations where specialists are scarce and/or they experience difficulty traveling (due to symptoms like decreased mobility, imbalance or walking issues). Virtual care – the remote delivery of health care services and information via electronic methods (video conference, smartphones, email, or text) – can address some of these challenges by bringing doctors into patients' homes or nearby clinics.
Survey Methodology
The survey was open from January 20, 2021 through to February 7, 2021 and was open to people living with arthritis. It contained 23 questions and was developed using the online survey platform, Survey Monkey. Respondents required internet access in order to complete the survey.
Click here to read more: https://jointhealth.org/programs-jhinsight-view.cfm?id=1265&locale=en-CA