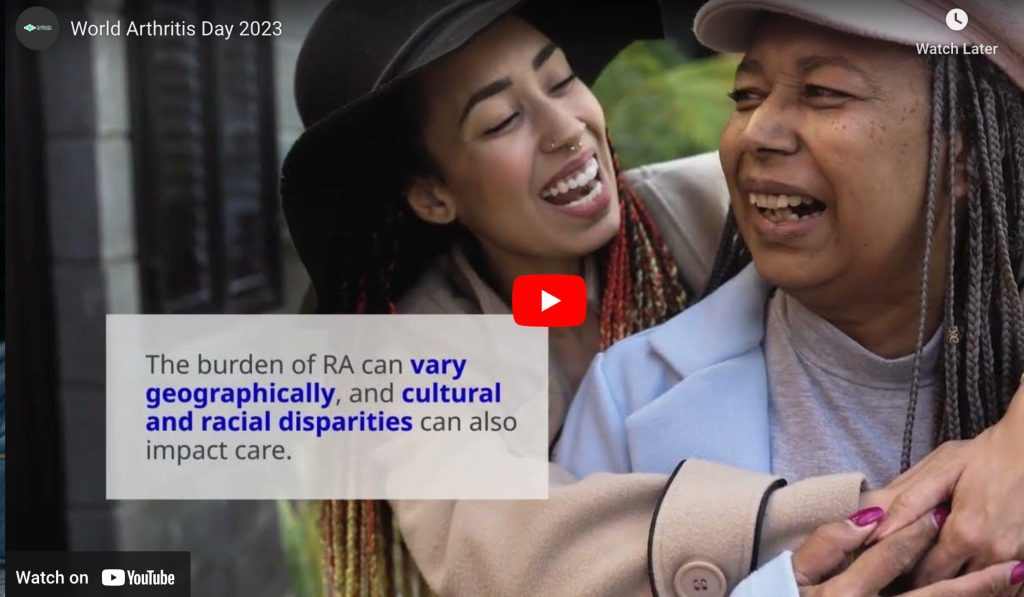 The Global RA Network created an informative video on rheumatoid arthritis (RA). The video aims to create awareness about RA and its impact on people living with it around the world. The video is being shared widely on social media platforms of member organizations of the Global RA Network. We urge you to watch the video and help us spread the word by sharing it with your networks.
The arthritis community worldwide comes together on this day to educate and inform the public about various aspects of arthritis and its impact on people living with it. The community also advocates for better models of care where patients can see their rheumatologist as frequently as recommended by the guidelines and don't have to wait longer than three months for their first appointment.
Arthritis is a condition that comes in many forms, with rheumatoid arthritis (RA) being one of them. RA is a major cause of disability and affects approximately 30 million people worldwide. If left untreated, up to 50% of people with RA become work disabled within ten years of the onset of the disease. RA is also linked to a number of other health problems, such as a higher risk of heart attacks and strokes, depression, osteoporosis, fractures, and even some cancers, especially lung and lymphoma. The disease creates a significant burden on health systems, resulting in direct healthcare costs, as well as indirect costs from lost employment, sick leave, and absenteeism.
Although RA can be difficult to recognize, an early diagnosis is essential for effective disease management. Understanding the disease can also empower patients and help their loved ones, employers, and acquaintances to better comprehend the challenges they face daily and support them as needed.
Awareness tools like this new video are crucial to improving people's understanding of rheumatoid arthritis. The member organizations at Global RA Network work tirelessly to increase education and enhance the lives of arthritis patients. Click here to learn more about the Global RA Network.