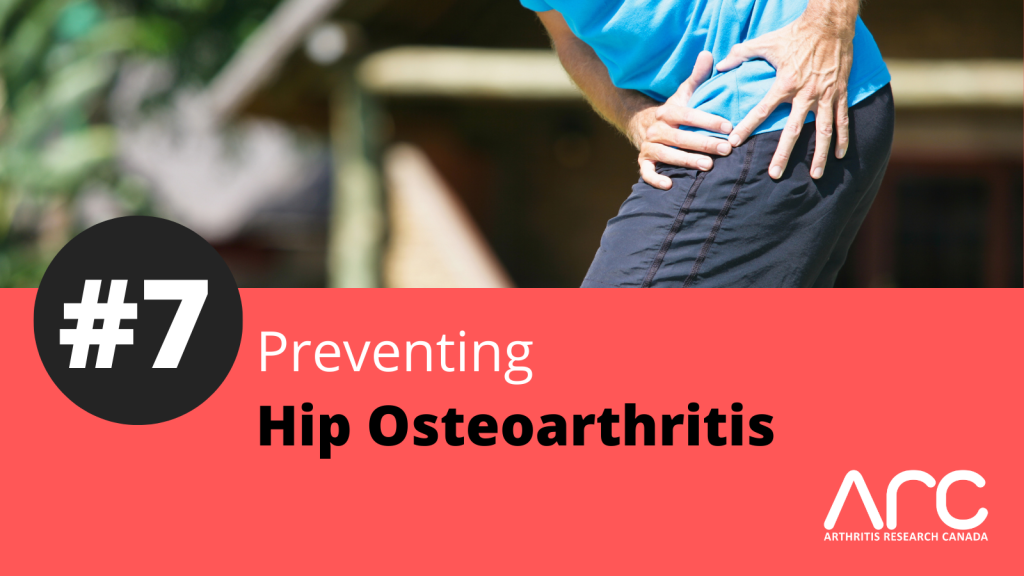 Arthritis Research Canada/Arthrite-recherche Canada's scientific team is tackling challenges faced by over 6 million Canadians living with arthritis – challenges that can interfere with everyday life. Through 100+ research projects, they are finding ways to prevent arthritis, diagnose people earlier, manage symptoms, provide new and better treatments and improve overall quality of life. We are excited to share #7 on Arthritis Research Canada's list of 10 Research Projects to Watch in 2023 this week.
#7 Hip Osteoarthritis Progression Evaluation (HOPE) Study
One of the potentially modifiable risk factors for hip osteoarthritis is a condition called femoroacetabular impingement (FAI). FAI occurs when extra bone grows along one, or both, of the bones that form the hip joint. This causes the bones to fit together imperfectly and creates extra friction that may worsen with certain physical activities and lead to osteoarthritis in the hip joint.
The link between FAI and developing hip osteoarthritis needs to be better understood. In order to prevent hip osteoarthritis, we need to know whether, and which type of physical activity leads to osteoarthritis in people who have FAI.
This study will examine the link between FAI and the risk of developing future hip osteoarthritis, and how different types of physical activity modify that risk.
We will re-evaluate 182 people who participated in our prior study, seven years ago, with and without femoroacetabular impingement (FAI), and with and without hip pain. We will use magnetic resonance imaging (MRI) to examine the cartilage, bones and other tissues in the hip. People will also complete detailed hip health questionnaires, receive hip x-rays, and have blood and urine samples taken for testing blood markers of early osteoarthritis.
Our goals are to determine whether people with FAI, compared to those without FAI, are at greater risk of developing osteoarthritis on MRI. We are also interested in evaluating whether different types of physical activity, alone or in combination with FAI, predicts who gets early hip osteoarthritis.
Click here to learn more about this research study.