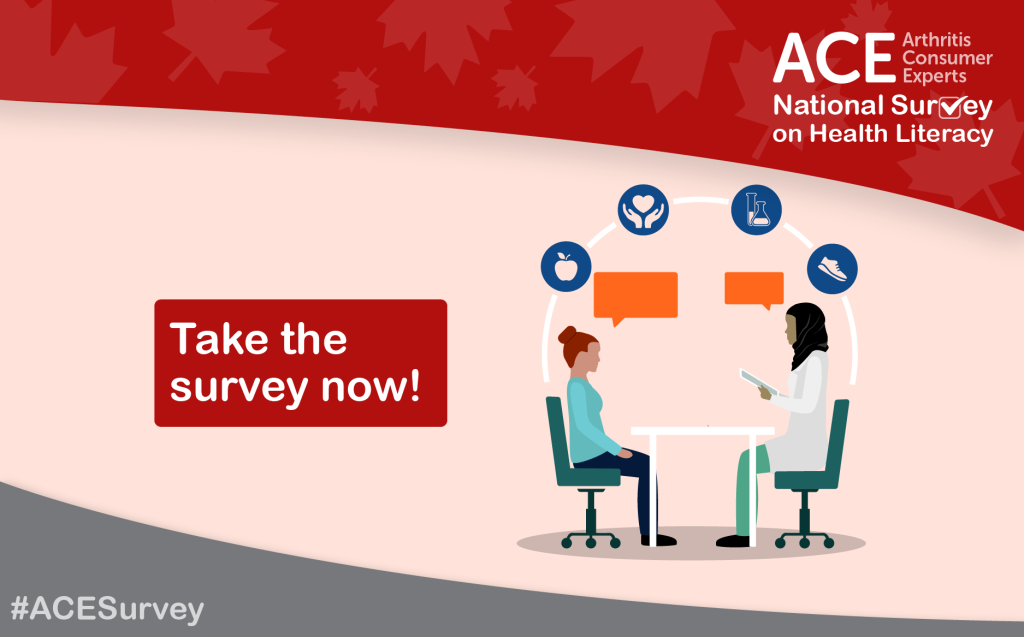 Take the ACE National Survey on Arthritis and Health Literacy

Health literacy is the ability of an individual to find, communicate, process, and understand basic health information and services in order to maintain and improve health – such as understanding medical information, finding services and resources, describing symptoms, communicating with health care providers, and advocating for better health care.

The Survey asks people to reflect on their understanding of information about health and the health system and their ability to find, process and use this information to make informed decisions about their health. ACE also ask questions to help identify how effectively health care providers have explained information to patients during their health care visits as well as questions about any challenges they experienced when using the health information they found to make decisions about their health.

The important findings from this Survey will help ACE identify and address daily challenges patients face trying to understand and use health information. ACE intends to share this valuable data with our partners working in healthcare and government, along with patient organizations, to better serve the needs of patients and equip them with the tools to promote self-care.

The Survey is open to people living with arthritis and will take approximately 8 minutes to complete. Your identity will not be known and your responses will remain anonymous. The Survey deadline is June 23, 2023.

Click here to take the Survey.

We sincerely thank you in advance for your time and participation!

Arthritis Consumer Experts

Attention health care providers

If you are an arthritis health care provider, please help us spread the word about the Survey by downloading the PDF poster and placing it in your patient waiting area.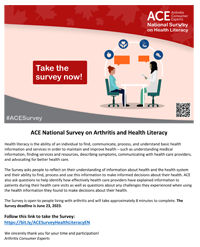 Download PDF poster