Balancing quality of life, safety, individual choice and collective responsibility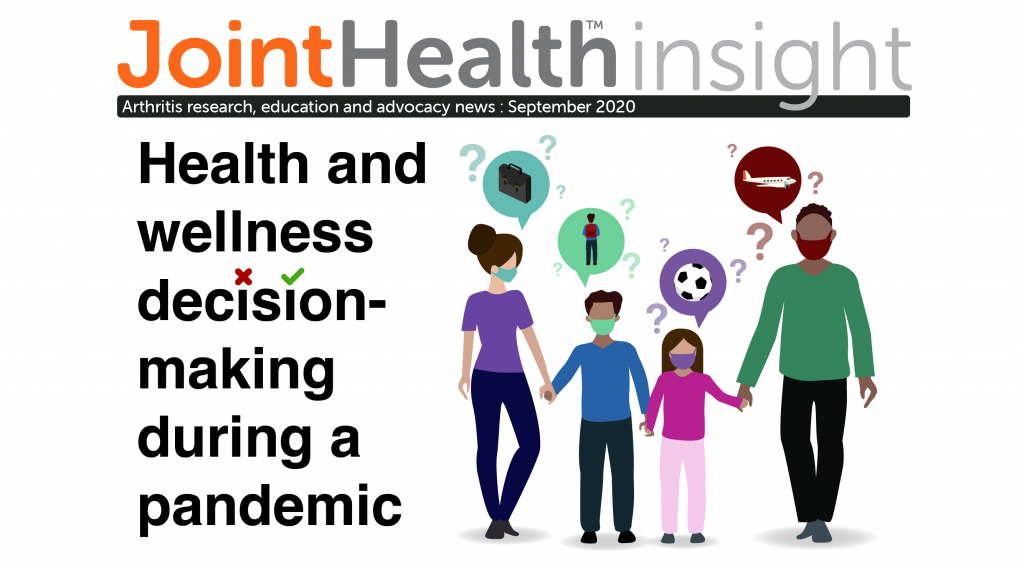 Everyone has been faced with difficult decisions during the COVID-19 pandemic. We have had to carefully choose who we interact with, how we interact with them, what risks we feel comfortable taking and what personal sacrifices must be made in order to keep ourselves and our loved ones safe. As public spaces open-up, including schools, we seem to be faced with more of these decisions every day. This will likely intensify as the weather cools across Canada, forcing us to spend more time indoors, and the threat of a second wave emerges.
In the most recent issue of JointHealth™ insight, we provide practical advice for the arthritis patient community on informed decision making during a pandemic.
This issue of JointHealth™ insight will:
Highlight helpful decision-making tools.
Consider the risk level of different activities such as visiting a public pool or eating in a restaurant.
Provide helpful tips for reducing your exposure to the virus in different situations, including traveling, which a patient may choose to do or may need to do for essential reasons.
Provide tips for practicing self-advocacy in everyday situations during the pandemic.
Provide a link to an ACE survey called "What is your "COVID-19 back-to-school" experience like? ". You will be able to provide feedback about your back-to-school experiences.