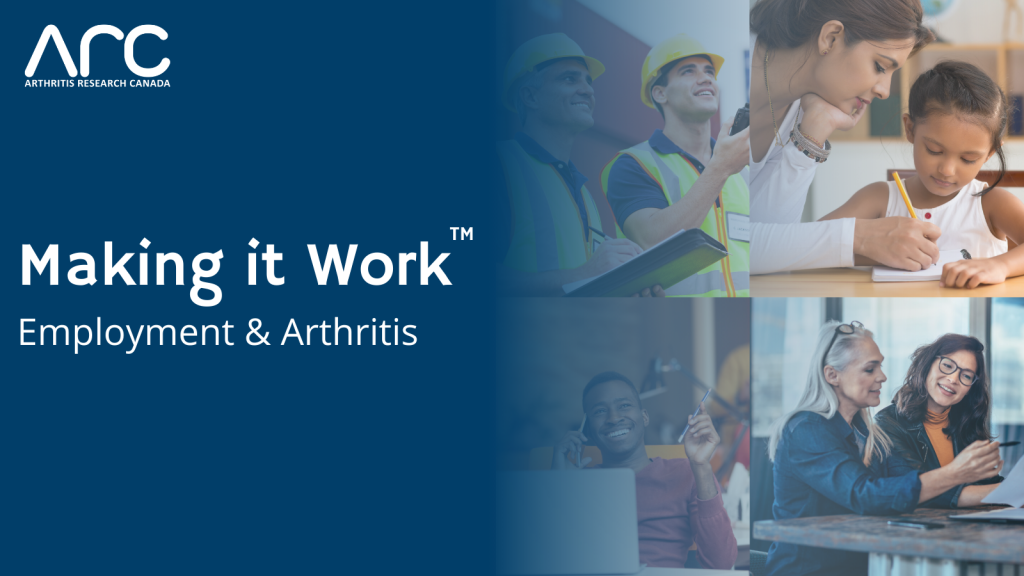 Living with joint pain can make performing specific work tasks very challenging. Jobs that are very physically demanding are often a problem. Arthritis can affect the hands, so writing or computer use is often tough for people with arthritis. If a person's arthritis affects their feet, standing for long periods of time and walking can be difficult. Yet, at the same time, too much sitting or not being able to move around is also challenging because immobility makes the pain and stiffness of arthritis worse.
Arthritis diagnosis typically happens between 30 and 45 years of age when people are in the prime of their working lives. The inability to work tremendously impacts a person's financial, social and emotional well-being. Yet, patients identify employment issues as one of their most relevant, unmet needs.
Arthritis is the most common health reason why Canadians stop working. One in five living with rheumatoid arthritis leaves the workforce within five years of being diagnosed, and almost half of working-age Canadians with osteoarthritis report not working or attending school.
The fact that arthritis is not visible and symptoms vary a lot from day to day makes it challenging for others at work to understand what the worker with arthritis is going through and why they can do something one day, but not the next.
Commuting can also become an issue for many people with arthritis. Taking public transit is difficult if one has to stand for a long time, especially in crowded, uncomfortable spaces, or if the travel involves a lot of walking and stairs. Commuting by car can be a problem because immobility makes pain and stiffness worse and mornings are often a difficult time of day for people with arthritis.
Arthritis Research Canada's scientists have developed a one-of-a-kind online program called Making it Work™ to fill this gap in arthritis healthcare services. The program focuses on early intervention to prevent work disability and foster healthy, productive work lives.
The Making it Work program consists of 5 Online Learning Modules:
Managing Arthritis
Managing Fatigue at Work
Managing Stress at Work
Communication Strategies
These learning modules are covered in 5 group meetings with 8 to 10 people that are also living with arthritis. The meetings are fully conducted online with a trained facilitator.
Within the program, there are also one-on-one consultations with an occupational therapist for an ergonomic assessment, where participants can go over work tasks, environment and their workstation, as well as with a job retention vocational counselling conducted by a vocational rehabilitation counsellor.
For more information about Making it Work™, click here.