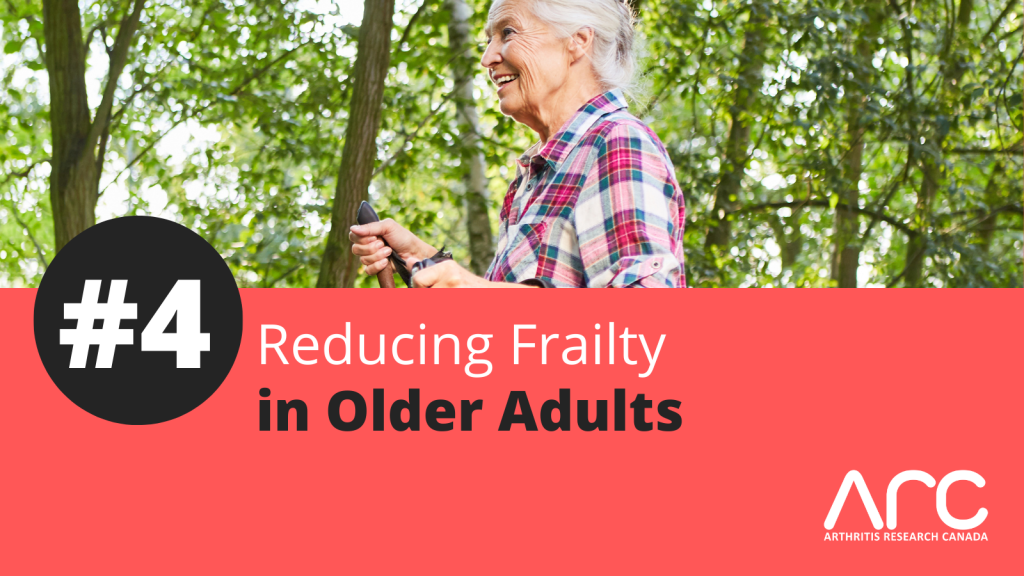 Arthritis Research Canada/Arthrite-recherche Canada's scientific team is tackling challenges faced by over 6 million Canadians living with arthritis – challenges that can interfere with everyday life. Through 100+ research projects, they are finding ways to prevent arthritis, diagnose people earlier, manage symptoms, provide new and better treatments and improve overall quality of life. We are excited to share #4 on Arthritis Research Canada's list of 10 Research Projects to Watch in 2023 this week.
#4 Moving more helps mobility of older adults with complex health needs
Physical frailty in older adults occurs when they reduce their daily activities and lose some of their physical function causing an impact on their overall health. Additionally, they often have chronic conditions that limit their daily activities and independence.
When older adults increase their physical activity, this helps them better manage their chronic conditions and prevents frailty. In a previous study our scientists showed that physical activity counselling with a physiotherapist was key to helping older adults stay active.
This project will provide physical activity counseling, based on the new Canadian 24-hour Movement Guidelines, to older adults with chronic conditions who are at an early state of frailty.
The Canadian 24-hour Movement Guidelines adopt an integrated approach which encourages daily physical activity while balancing appropriate sedentary behaviour and sleep time. This study will test our adapted approach with the one currently used by physiotherapists and determine if it increases the physical activity time for older adults more than the current approach.
Click here to learn more about this research study.