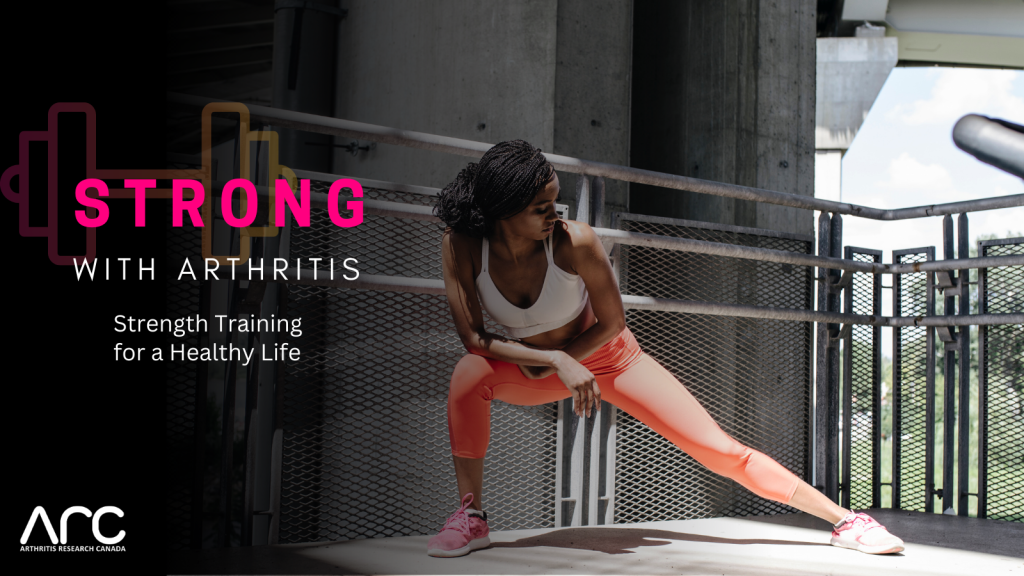 International physical activity guidelines recommend adults engage in strength training exercises at least twice a week.
Strength training uses resistance to build muscle and includes activities like weightlifting, squats and working with resistance bands. It has been tied to lower blood pressure and a reduced risk for type 2 diabetes, anxiety, depression and more. Despite these benefits, around 70% of the general population and 86% of people with rheumatoid arthritis do not do this type of exercise on a regular basis.
Individuals living with arthritis face many barriers to participating in strength training. Arthritis Research Canada is conducting research and developing strategies to help people with rheumatoid arthritis build strength training routines that work for them.
Regular strength training can improve pain, function, and quality of life and even decrease risk for serious complications like heart disease. However, arthritis symptoms and other factors often stand in the way and health professionals use a one-size-fits-all approach to prescribing physical activity that doesn't work for everyone.
I START, a unique research project, was created to support people with rheumatoid arthritis to participate in strength training. Researchers are working to identify ways to support people to strength train and to develop methods to customize physical activity interventions. The goal? Help people with arthritis stay healthy and strong.
A team of health care providers collaborated with people living with arthritis to identify barriers to strength training. They learned that people struggle with:
Remembering exercise technique
Knowing how to adapt exercise routines during a flare
Distinguishing between arthritis-related joint pain and delayed onset muscle soreness from exercising
Fearing that exercise may trigger arthritis symptoms
"In total, our research revealed over 50 challenges to participating in strength training. Even healthcare professionals expressed uncertainty in prescribing strength training to people with rheumatoid arthritis," said Dr. Jasmin Ma, Clinician Investigator at Arthritis Research Canada.
Researchers are reviewing existing research on how to increase strength training participation and how to customize physical activity prescriptions for individuals. They are also speaking with people living with rheumatoid arthritis to gain a better understanding of how medical professionals can better promote and prescribe strength training.
The research team is developing interventions to improve strength training participation and physical activity programs for individuals. There will be toolkits for health and exercise professionals and patients.
This research is aimed at decreasing pain, reducing fatigue and lower risk for serious complications like heart disease in people with arthritis.
To learn more about Arthritis Research Canada's study I START, click here.