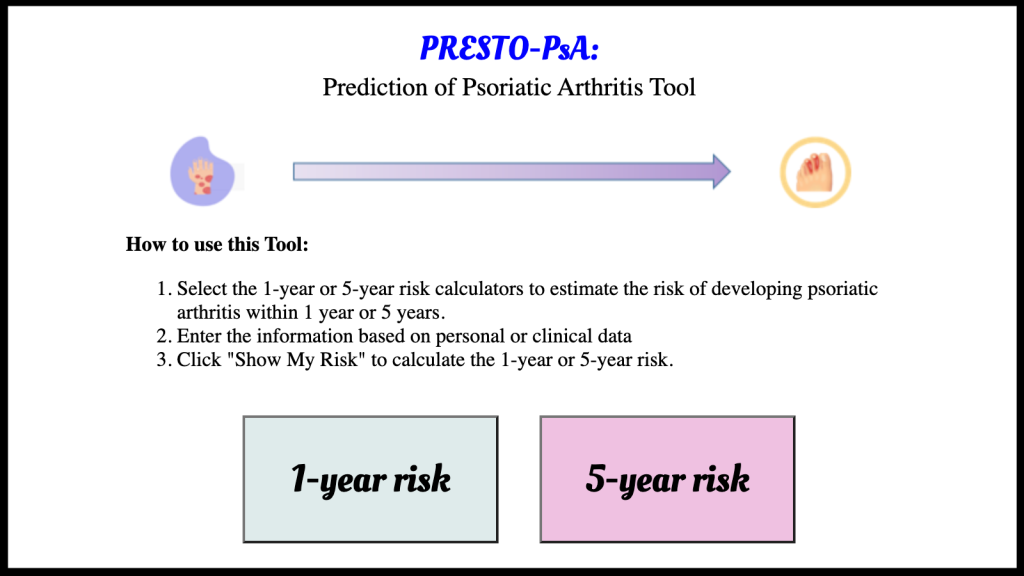 Researchers have developed and validated a tool called PRESTO. This new tool can help identify psoriasis patients with psoriasis who face an elevated risk for developing psoriatic arthritis (PsA). According to the research team led by Dr. Lihi Eder, the tool is a "simple, scalable tool capable of estimating the 1-year or 5-year risk of developing psoriatic arthritis among individuals with psoriasis."
You can find the PRESTO calculator here. Calculate your 1-year risk and 5-year risk now!
Psoriatic arthritis is a form of inflammatory arthritis which causes swelling and pain in and around joints, as well as a scaly rash on the skin. Joints most affected are the fingers, wrists, toes, knees, shoulders, elbows, and ankles. In addition to joints and skin, PsA affects the tendons and ligaments around the joints, as well as the surrounding tissue. Psoriatic arthritis can also affect the spine – a form of the disease called psoriatic spondylitis.
Psoriatic arthritis is linked to the skin disease, psoriasis, which causes a scaly-type rash usually occurring on elbows, knees, and scalp. Psoriasis is considered a significant risk factor for developing PsA – up to 20-30% of people diagnosed with psoriasis go on to develop PsA. For many people, it starts about 10 years after psoriasis develops, but some develop PsA first or without ever developing or noticing psoriasis.
According to research findings published in Arthritis & Rheumatology, among 635 patients with psoriasis followed in the University of Toronto psoriasis cohort, 51 and 71 developed psoriatic arthritis during 1-year and 5-year follow-up periods, respectively. In the study, patients with younger age, of male sex, with a family history of psoriasis, have back stiffness, nail pitting (dents, ridges, and holes in the nails), joint stiffness, poor health, who uses biologic medications, and in severe pain were at higher risk of developing psoriatic arthritis within 1 year. Patients with morning stiffness, psoriatic nail lesion, severe psoriasis, fatigue, pain, and who uses systemic non-biologic medication or phototherapy were at higher risk of developing psoriatic arthritis within 5 years.
Dr. Lihi Eder, Corresponding Author at the Women's College Hospital and the University of Toronto, commented on the tool: "The PRESTO tool could serve future efforts to reduce the progression from psoriasis to psoriatic arthritis. For example, PRESTO can be used to enrich prevention trials with at-risk populations. It can also identify patients with psoriasis who can benefit from early treatments, and it can serve as an educational tool for patients to increase awareness of psoriatic arthritis risk. Ultimately, we hope that these efforts will improve the lives of people living with psoriatic disease."