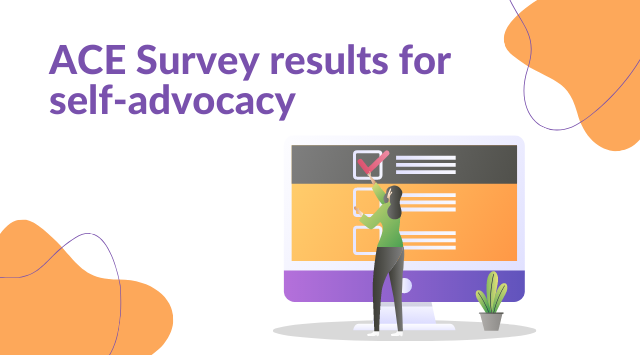 Arthritis Consumer Experts (ACE) conducted a national Survey from June 23 to July 24, 2021 to identify inequities and gaps in arthritis self-advocacy – who is experiencing them and what some of the challenges are in advocating for the best arthritis care possible.
When a person receives a diagnosis for a type of arthritis, a new journey starts and their role as self-advocate immediately begins. This new role involved with being an informed self-advocate for the effects your disease has on your quality of life and the health care you receive from your healthcare team and the healthcare system. Self-advocacy can help give patients some stability, a feeling of regaining control and the strategies and tools to live your best life. Self-advocacy is a way of reaching out to others and explaining your arthritis experience to your family, friends, co-workers, employers, and even strangers and learning how to ask for support and help. Ultimately, self-advocacy requires participation in the decision-making process, particularly as it relates to the healthcare you receive.
Key findings from the survey include:
Respondents in both the English and French populations identified a close friend, spouse/partner, and family as the top 3 sources of emotional support.
A majority of all respondents told their friends or co-workers about their arthritis diagnosis within a few weeks or months after receiving it.
Respondents who identified as black, Indigenous, or a person of colour (BIPOC) were more likely to talk about their arthritis diagnosis with their employer than their non-BIPOC counterparts (3 in 4 or 76% compared to 5 in 10 or 55%).
Respondents identified joint paint, fatigue, stiffness, sleep, and exercise as the most challenging things for them to deal with while living with their type of arthritis.
When asked what they considered the most trustworthy sources of information for their type of arthritis, respondents trusted the advice of their rheumatologist (8 in 10 or 76%) the most, followed by family physician (1 in 10 or 8%) and other arthritis specialist and patient organizations (both at 1 in 10 or 7%).
Eighty-five per cent of respondents found it "not that difficult" or "not difficult at all" to take action on the information and instructions given to them by their health professional caring for their type of arthritis versus 15% respondents who found it difficult.
BIPOC respondents were 2 times more likely to be interested in learning how to contact their elected officials.
To read the full report, please click here.