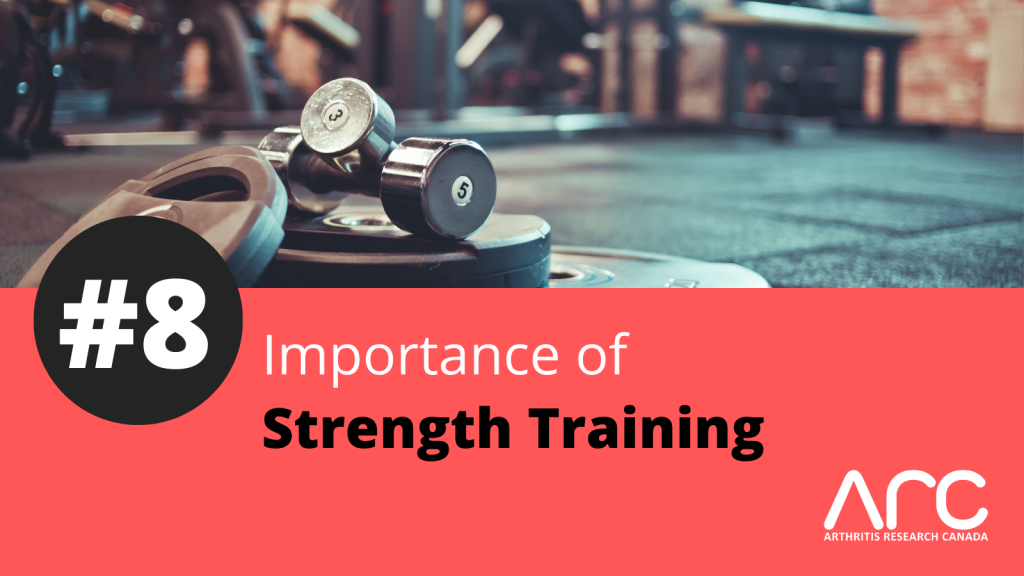 Arthritis Research Canada/Arthrite-recherche Canada's scientific team is tackling challenges faced by over 6 million Canadians living with arthritis – challenges that can interfere with everyday life. Through 100+ research projects, they are finding ways to prevent arthritis, diagnose people earlier, manage symptoms, provide new and better treatments and improve overall quality of life. We are excited to share #8 on Arthritis Research Canada's list of 10 Research Projects to Watch in 2023 this week.
#8 I START: Improving Strength Training and Tailoring Among People with Rheumatoid Arthritis
We know that having strong muscles is important for people with rheumatoid arthritis, but fewer than 14% of people with rheumatoid arthritis regularly do strength training exercises, even among those with well-controlled disease.
Strength training has a lot of important benefits for people with rheumatoid arthritis. In addition to reducing pain and fatigue, it also lowers the risk for cardiovascular disease, a leading cause of death in this population.
The I START project is aimed at finding out what helps people with rheumatoid arthritis to take up and maintain strength training and develop effective strategies to empower people to take part in this type of activity in order to improve their health.
In collaboration with Arthritis Research Canada's Arthritis Patient Advisory Board members, this project will:
Summarize the research on how to increase strength training participation, and how to customize physical activity prescriptions to the individual.
Interview people with rheumatoid arthritis to gain a better understanding of how we can help promote strength training and better prescribe physical activity that strengthens muscles.
Based on this information, we will develop a toolkit to help clinicians and patients improve strength training participation and physical activity programs that are a good fit for each individual.
Click here to learn more about this research study.