As the number of COVID-19 cases grows, we're hearing a lot about how social distancing, self-monitoring and even self-quarantine play into containment efforts.
ACE is providing you the following definitions to help you understand what these terms mean, and when they apply.
SELF-MONITORING, OR "BEING AWARE OF HOW YOU AND THE PEOPLE YOU PHYSICALLY LIVE WITH ARE FEELING"
Self-monitoring means you should observe your own health and the health of your children, life partner, roommate or whomever you live with for symptoms such as fever, cough or difficulty breathing. While Canadians have been asked to stay at home and self-monitor, some need to attend work. Regardless, self-monitoring is important for us all.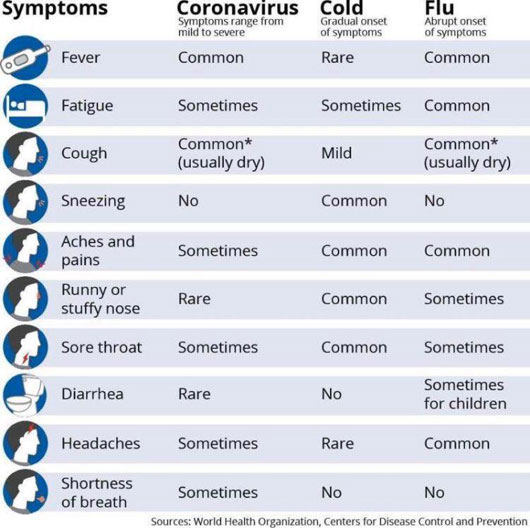 SOCIAL DISTANCING, OR BETTER STATED, "PHYSICAL DISTANCING" WHICH IS WHAT YOU'RE ACTUALLY SUPPOSED TO DO
Social distancing/physical distancing is a proven way to slow the spread of COVID-19 by limiting close contact with others. Even though we are not sick, we should still keep about 2 metres (6 feet) or the length of a queen-sized bed from one another when we can when outside our homes.
There are many ways to practice social distancing:
Limit activities outside your home
Use virtual options to connect with others
If you are out in public, try to keep 2 metres (6 feet) between yourself and others
Keep your hands at your side when possible
Stay home when you are sick
Cough into your elbow or sleeve
Avoid social activities in large gatherings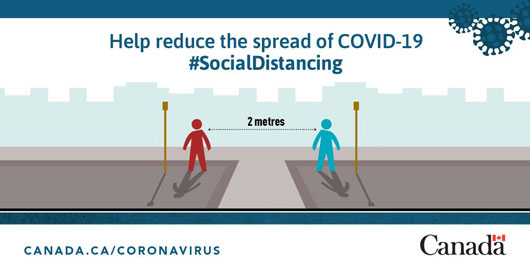 SELF-ISOLATION
Self-isolation means avoiding situations where you could infect other people. This can help prevent the spread of infections. Self-isolation lowers the chance of spreading the illness to other people. When you are exposed to an illness, there is the time between exposure and when you start to feel sick. This is called an incubation period. There is a small chance you can spread germs in the days before you feel sick. People at high-risk of having been exposed to the illness are asked to self-isolate.
Plan ahead and prepare for what you will do if you or a family member becomes sick and needs care.
SELF-QUARANTINE
Self-quarantine is a step up from self-monitoring. A person must self-quarantine in these two situations:
A person has come into close contact – one or several times over a prolonged period of time – with a person who has or goes on to be diagnosed with the virus. Even though they may not be showing symptoms, they are at a much higher risk of developing the virus because of their contact with an already infected person.

Canadian Prime Minister Justin Trudeau, for example, is self-quarantining because his wife tested positive for the virus after returning from a trip to Great Britain.

Self-quarantining means staying home and away from other people for that 14-day period. People in this circumstance who live with others should do their best to retreat to their room or find a separate area in their home, and they should not go out.

If you are under self-quarantine because of possible exposure and develop a fever, a cough or shortness of breath within the 14-day period, call your doctor, local hospital or public health department to find out what to do.

A person has been diagnosed with the virus. Please click here to read important information from Health Canada about self-quarantine and monitoring of symptoms.
SHELTER IN PLACE, OR "STAY AT HOME ORDER"
A "stay at home order" is a more rigorous form of social distancing/physical distancing.
It means you:
Must stay at home
You can only leave your home for "essential activities," to work for an "essential business," or for "essential travel."
Cannot host or attend any gatherings
You should also maintain 2 metres (6 feet) distance from other people, wash your hands frequently for at least 20 seconds each time (or use hand sanitizer when handwashing isn't available), frequently disinfect high-touch surfaces, and stay home if you are sick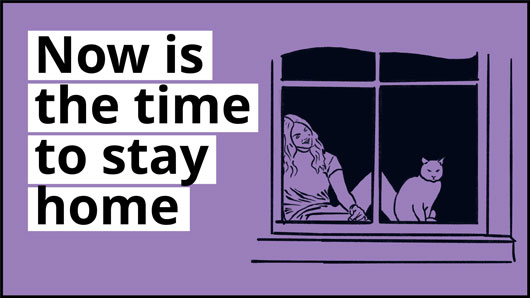 How do you ensure that people who are told to self-isolate actually self-isolate? What if they were to go out in public, like to a local grocery store, would I be at risk?
The spread of novel coronavirus occurs with sustained close contact with an affected individual, for example, sitting in a car on a long trip, or living in the same household. Grocery stores – which are open and where people tend to walk around – are unlikely places to allow for virus spread.
A number of groups are being asked to self-isolate:
Group 1: Anyone returning from outside of Canada
Group 2: Those with known exposure to COVID-19
Group 3: Those who are a confirmed case
The second and third groups mentioned above are monitored by Public Health, both their health and their activities. If people do not self-isolate, Public Health can use legal powers under the Public Health Act to ensure that self-isolation occurs.